1)The Complaint Id Number or Case Number is automatically generated.
2)The Client Number and Client name fields may be populated by the Customer look-up table .
3)The Complaint Type Code and Description may be populated by the Compliant Type look-up table.
4)Use the Remarks field to record important Customer comments.
5)Optionally you may record part numbers/names.
6)The complaint may be assigned to others with a target due date.
7)Corrective Actions may be recorded in the Customer Complaint form.
8)Use the Complaint Status and Status Updated fields to record the appropriate complaint stats.
9)The [ ] Recorded in CAPA log checkbox indicates the Customer Complaint was copied to the CAPA log or entered manually in the CAPA log. Customer complaints may be excluded from the Customer Complaint log report by un-checking [ ] Include for Report Tally checkbox.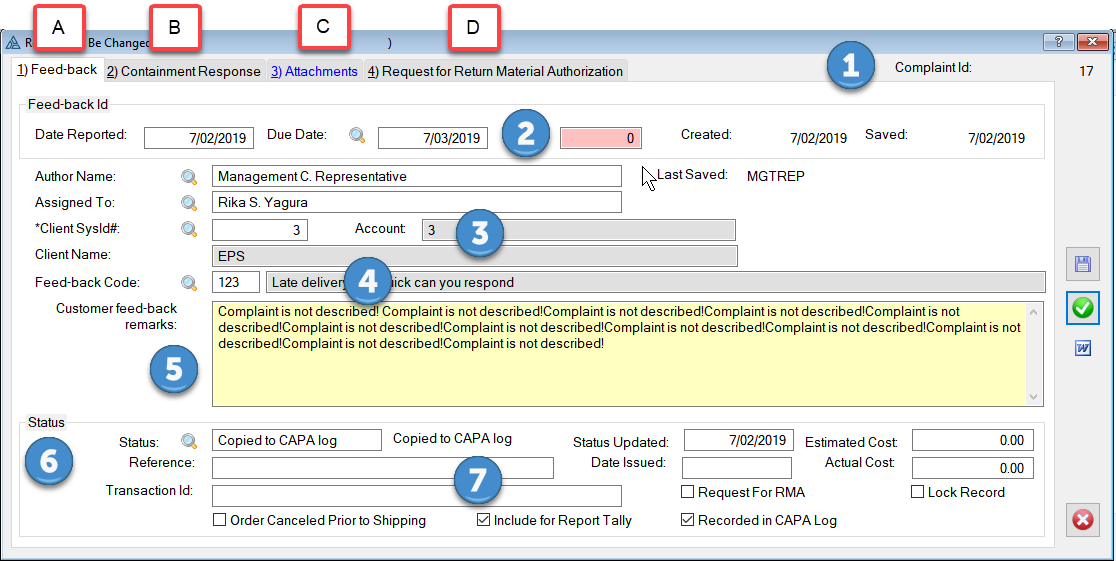 The image below shows additional fields added in a later version.
A. User defined Reference field.
B. Estimated and Actual Cost related to the Customer Complaint.