The QMSCAPA™ Document Control Index Viewer (DCIviewer) is a separate application that may distributed to persons whom only need access read-only controlled documents and, or records.
DCIviewer is a read-only application, which prevents users from making any alterations to documented information or to the Document Control Index itself. Also, DCIviewer must be installed on the same computer/server as QMSCAPA to ensure both applications (QMSCAPA & DCIviewer) have the same file path to controlled documents and records.
Other features of DCIviewer:
•The Document Index browse table hyperlinks to the file path of the stored document or image. The native file viewer opens the linked document.
•License Free - Concurrent users are are controlled by your Computer/Server
•Runs on on Windows 7, 8, 8.1 & 10; Windows Server 8, 12 & 16.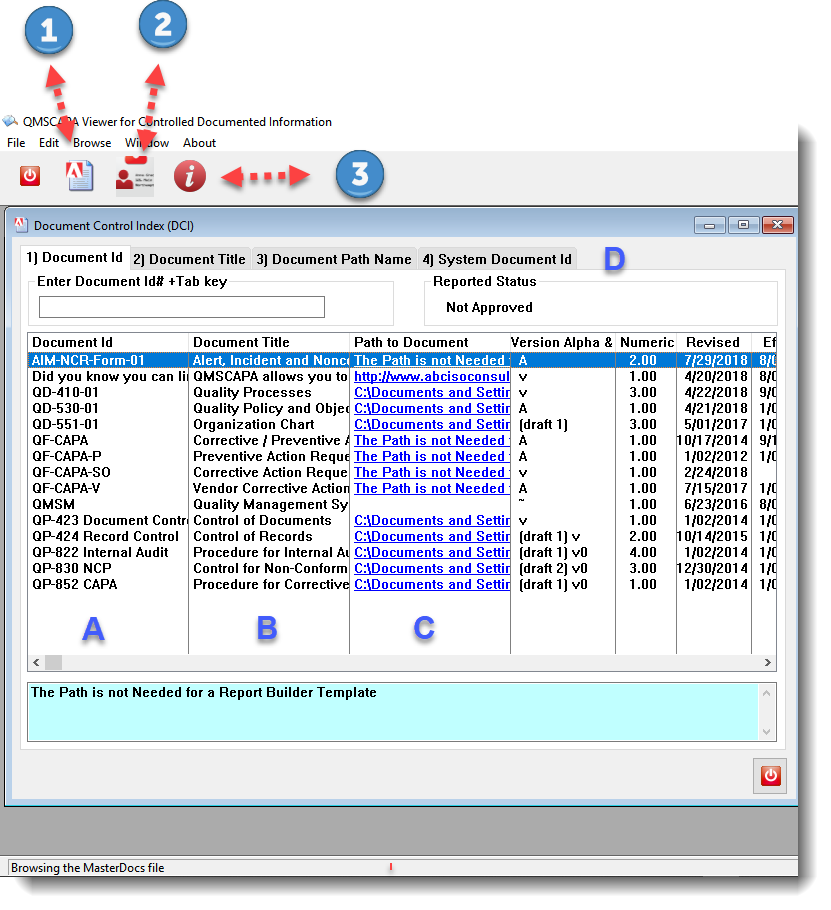 In the image above:
A.The DCIviewer browse table maybe sorted and search by selecting Tab 1) through Tab 4). Tab 1) is sorted by the QMSCAPA System Document Identification.
B.Tab 2) By Document Id (user defined)
C.Tab 3) By Document Title (user defined)
D.Tab 4) By Document File Path