The External FILE Manager is a standalone application that must be installed in the same directory as your QMSCAPA™ database files (filename.tps). Therefore, to install FM3QMS.exe, most Windows computers will require:
1.An Administrative User login to the computer or server where the QMSCAPA™ database files (filename.tps) are located.
2.All QMSCAPA users should be logged out of the application and all of the databases should not be in use.
It most cases if QMSCAPA™ encounters a file error the 'error message' to the user will include the file name. Write down the file name and go to the File Manager as shown below. You may need to restart the application.
USER TIP: Use the FILE MANGER as a single user only!
When FM3QMS.exe is launched:
1.The select the folder where data files are stored will open.

2.Once the 'Data Path' is selected all databases are scanned for errors and an attempt is made to automatically correct any problems found.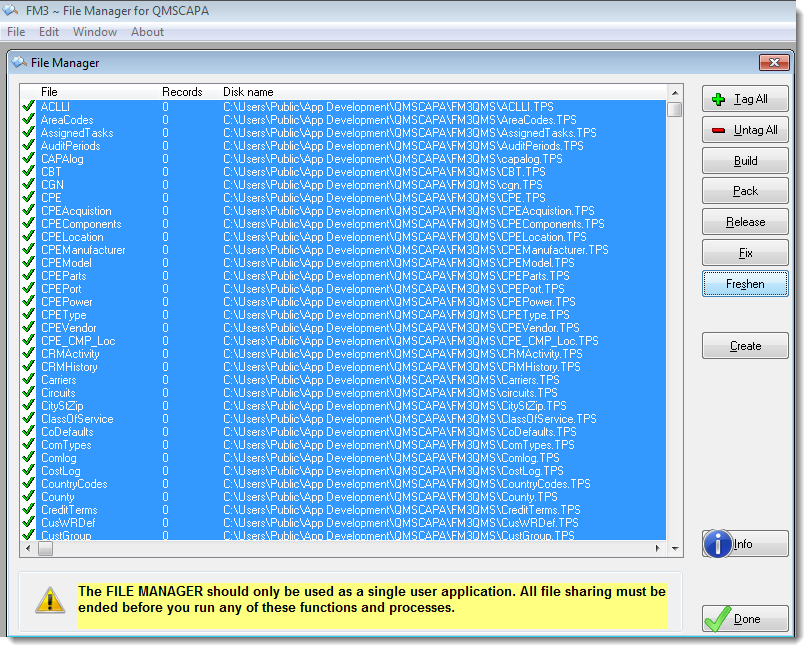 Once the scan and repair process has completed the application will pause momentarily allowing the user to manually inspect the files.

If you intend to inspect the files manually then click on the Use the File Manager button.
Select the appropriate file with the offending error by using the mouse pointer select or deselect a specific file. Left click on the file name places a check-mark to the left of the file name. First use the Freshen button to correct the file problem. Other options are described below:
•[Tag All] is used to select all files.
•[UnTag All] is used deselect all files.
•[Build] is used to 'Re-index' the selected file(s).
•[Pack] is used to remove previously 'deleted' records from the selected file(s).
•[Fix] is used to repair the selected file(s). Fix must only be used if the file doesn't come right with Freshen. Don't use Fix on working files, as it can sometimes corrupt them. Fix is your last resort.
•[Freshen] is used to create a new file and copy all the old records out the old file and put them in the new file. Freshen is the best for fixing files, for getting rid of deleted records, and re-building keys all in one. This effectively removes all duplicate entries (which might be causing the Build to fail) and also can act as an effective fixing of possibly corrupted files.
•[Info] is to look-up the quantity of records in the selected file(s) and show the File Path.
•[Create] is used to create a non-existent file.
•[Done] closes the File Manager.