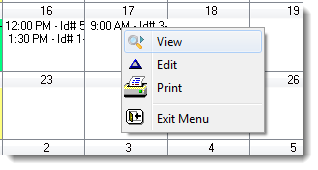 QMSCAPA Weekly Training Schedule Calendar options:
✓The Calendar display may be resized to fit the monitor.
✓Toggle between the monthly or weekly views.
✓Click on an entry then drag and drop to a new date for rescheduling.
✓Right-mouse click for Edit, Print or View details.
✓Refresh the Window to adjust the resized window.
✓Refresh the Data to check of additional records that may have been added by other users.