Guidance for Document Approval
1)Open the Control of Document Index
a)Main Menu > Browse Logs > Document Control Index
b)Select a Record in the Document Control Index Table and click on the Edit button.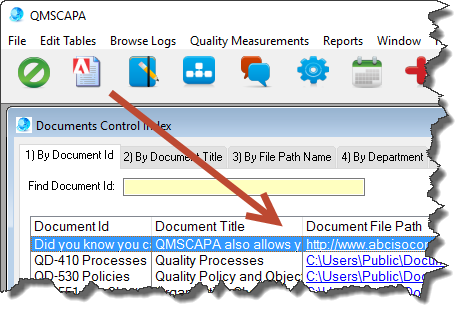 2)When the Document Record is open for editing ...
a)In the image below, the letter (A) positioned at the Tab Row:
i.Tab (1) Document Description contains important Document Control information, including Current Revision Date, Document Approval Date and the Document Effective Date.
ii.Tab (2) Document Version Approval and History provides access to the document version history log and a log of approvals by persons whom are authorized documents.
iii.Tab (3) Document Text Editor for documents created with QMSCAPA.
b)The letter (B) positioned at the Required Approval group box of the Job Titles/Organizational Chart Postion required to review and approved documents.
i.The Approved by Title field is typically the person who has been authorized as the person responsible for making the final approval. Enter a specific Job Title for the final required approval.
c)The letter (C) positioned the Approval Requirements are VERIFIED checkbox is intended to be used as a document approval inspection method to verify that the document approval process has been verified.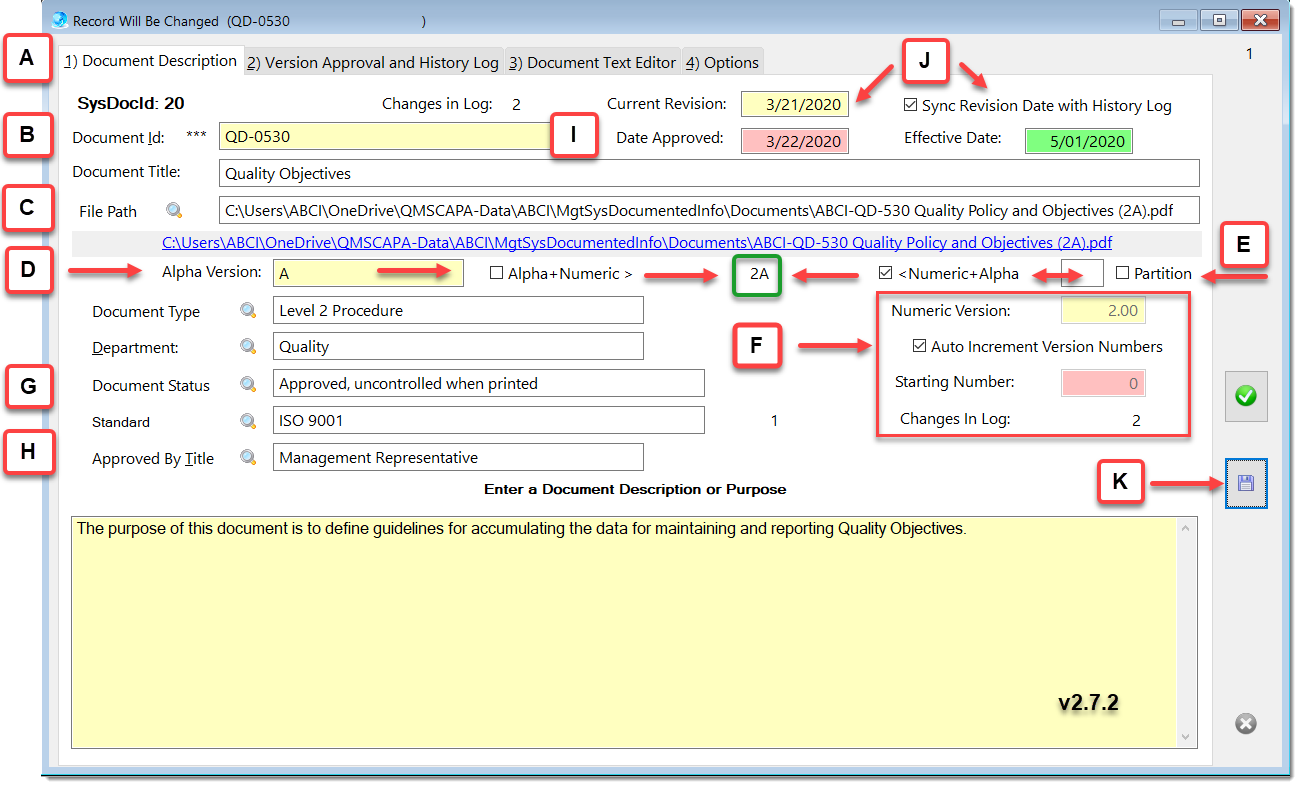 3)Select the Version History Log tab
a)The upper table in section (A) displays the revision history.
b)The lower table in section (B) displays the Authorized Approval Log.
c)In the Options Tab, the Document Revision Record and the Document Revision Approval Record may be locked to prevent unintended changes to the records.
d)Prior to adding a Document Revision History record, update the Document Current Revision date and click on the checkbox [√] Sync Revision Date with the History Log.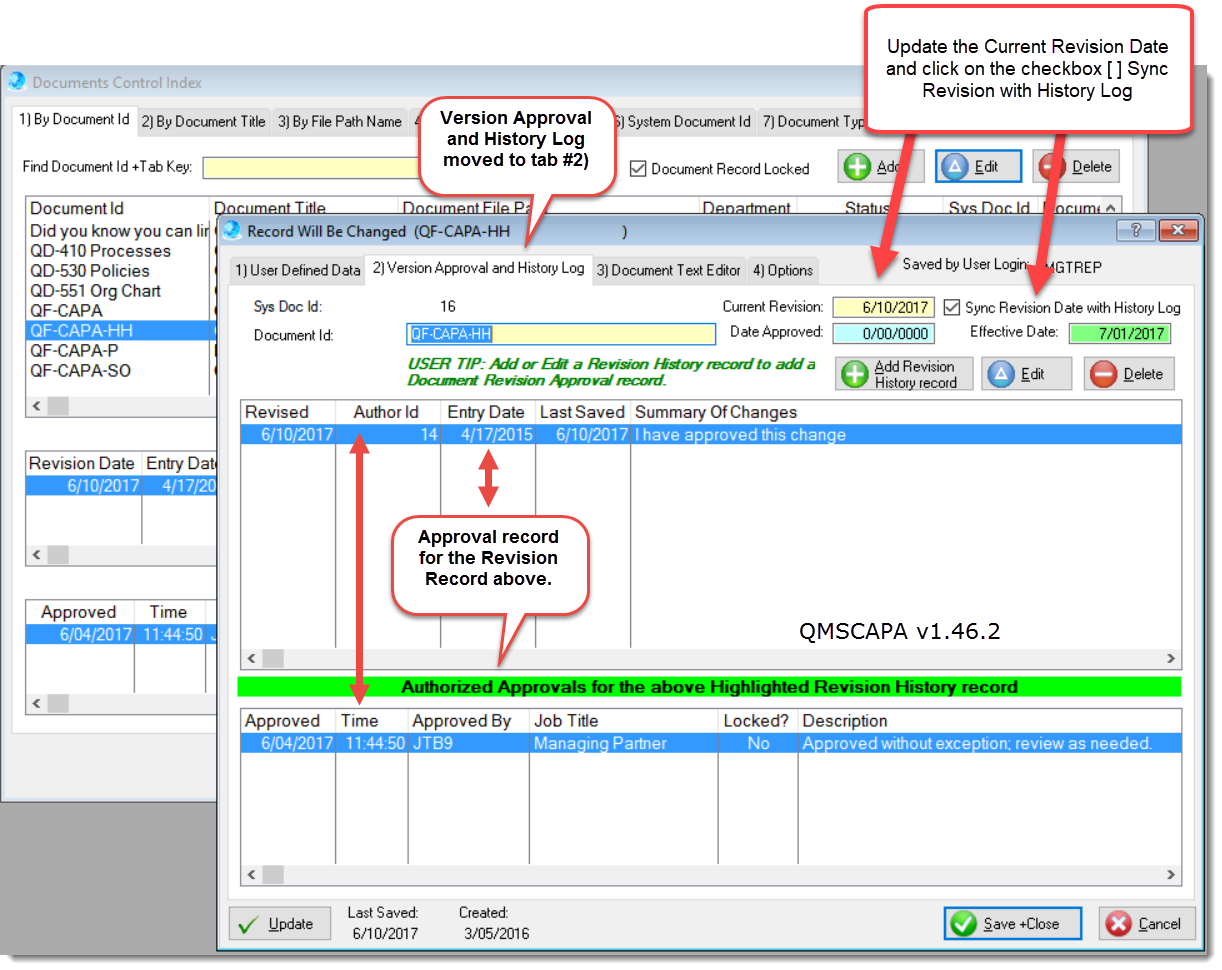 4)Document Revision Information and Authorized Approvals Form (shown below)
a)A document revision history record may be locked to prevent any untended changes.
b)The Authorized Approvals count is related to the Authorized Approval Log in section (E) shown in the image below.
c)A document revision history record may be synchronized with the Document Control Index record.
d)The field labeled as 'Required for Approval' is the Job Title of the person for the minimal required approval.
e)The Authorized Approval log is shown in section E.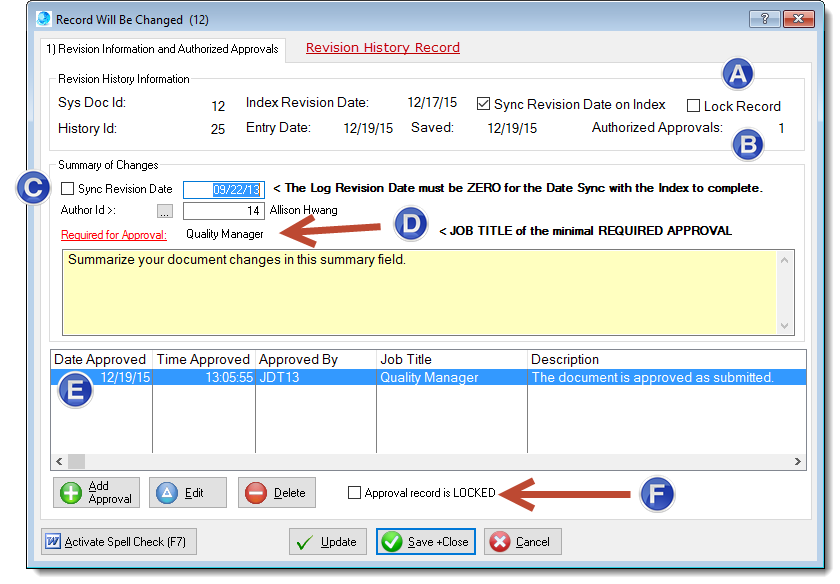 5)Document Revision Approval Record Form
a)The authorized person for approval should record a brief statement of their intent.
b)The Approved By field indicates the authorized approval or authorized signer.
c)The Lock Record checkbox provides the option to lock the approval record from unintended changes.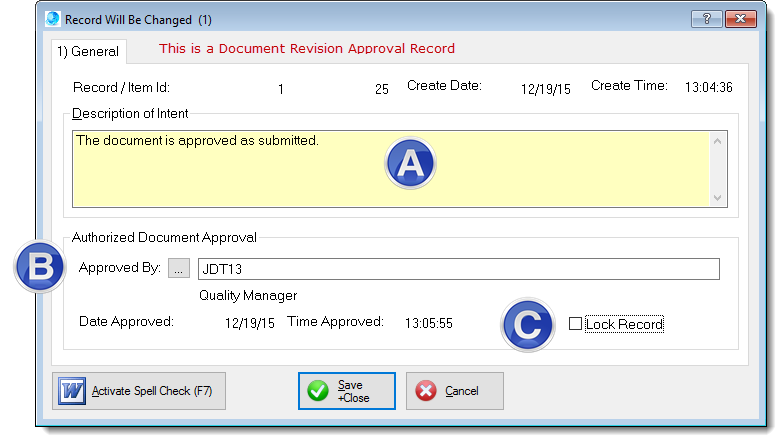 Related Topics:
•Electronic Document Deployment