QMSCAPA is designed for multiple simultaneous users when used in a Microsoft Server that provides Remote Desktop Services.
Remote Desktop Services (RDS) is one of the core virtualization technologies available in Windows Server (2008/2012/2016/2019). Microsoft is progressing in its vision to provide the best virtualization platform for accelerating and extending desktop and application deployments from the secure data center to any device. In addition to the traditional session virtualization scenario (formerly known as "Terminal Services") Remote Desktop Services is expanding its role to provide an extensible platform for a Virtual Desktop Infrastructure (VDI).
Click here for more about Microsoft Remote Desktop Services.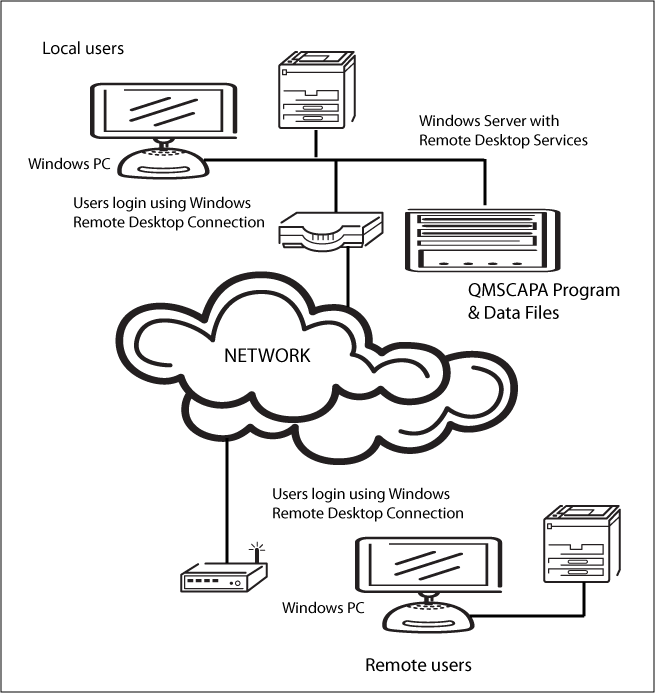 Remote Desktop Services is Microsoft's implementation of thin client, where Windows software and the entire desktop of the computer running Remote Desktop Services, are made accessible to a remote client machine that supports Remote Desktop Protocol. With Remote Desktop Services, only software user interfaces are transferred to the client system. All input from the client system is transmitted to the server, where software execution takes place.
Remote Desktop Services provides the multiple-user community many benefits, which includes:
✓ Easy and single point installation for initial installation and upgrades;
✓ Domain security for internal and external users;
✓ Ubiquitous cloud connection from any windows computer with available Remote Desktop Services.
✓ Learn what's new in Microsoft's Remote Desktop Services
Configuration Example for Ten (10) Users:
QMSCAPA has a very small foot-print and in a mature environment the EXE/DLL and data files should not exceed 5 gigabytes even in a large business with 50 QMSCAPA users. Recommend configurations for a physical or virtual machine :
1.Windows 2016/2019 Server with Remote Desktop Services licenses;
2.Windows 2016/2019 Server will provide users with a robust environment similar to Windows 10 Professional;
3.License the Sever for at least 10 RDP Client Access License (CAL);
4.Server hardware: 2 Core Processors; 16 GB RAM;
5.License the Server for 10 Licenses of Microsoft Word and Excel, which will allow the Remote Desktop users to have a seamless Desktop Experience.
6.An email client (Outlook) should not be needed if the users Active Directory profile allows for a mapped personal folder (your 'U:Drive') that may be accessed from the local computer or the Remote Desktop session.
7.License for a PDF Writer (print driver).
8.Printer drivers for the user's default printer setting in their local machine.
The QMSCAPA single user version is license free. However, if you wish to have more than one simultaneous user of QMSCAPA you will need a license/copy for each user.
Microsoft Remote Desktop Connection RDC (Windows client)