User Note: For installations that require more than three users we recommend running QMSCAPA on a Windows Server through Terminal Services or Remote Desktop Connection.
See Recommended Configuration for Multiple-Users
Also Multiple Users on a LAN (Larger Business)
If you wish to have more than one simultaneous user of QMSCAPA you will need a license/copy for each user and a shared drive/folder in Local Area Network. Although not recommended by ABCI Software, the following configuration may be suitable for up to three users, that are running the same Windows Professional operating system. Mixed computers on a LAN using Vista or Windows 7/8/10 could be problematic for the QMSCAPA data files. Windows XP computers are not supported.
Simple Installation for Client to a Network Shared Drive or Server
In this scenario the QMSCAPA executable binary libraries are installed on each client computer and the data files coexist in the same share drive/folder in a central computer or server.
1)First decide which computer will serve as your main computer or file server where QMSCAPA's databases will be kept. We refer to this main computer as your Server. We refer each additional computer as the Client.
2)Install QMSCAPA on your main computer or file server. First-time or new users must use the DEMO INSTALLATION PROGRAM, which includes SAMPLE DATA. The default location for QMSCAPA data is c:\Users\Public\Documents\ABCI\QMSCAPA.
3)On each Client computer that you wish to run QMSCAPA, map a drive letter (e.g. Q) to the literal path name on your main computer or file server for QMSCAPA.
4)Next, using your Windows File Explorer on your Client computer you can map this folder as drive Q:\ABCI\ on your Client computer. We recommend that you set the root for the Q:Drive to ABCI, which will allow you to have multiple sub-folders in the ABCI folder (see the image example below).
5)On each Client computer that you wish to install QMSCAPA, run the 'Demo' installation program using the default settings.
6)Once the QMSCAPA is installed on the Client launch the program to verify QMSCAPA can run with the local demo data.
7)To share the data on your LAN/SERVER shared 'Q Drive' you must execute the FIRSTRUN option on each client computer.
8)Using /FIRSTRUN with a Windows Shortcut on each Client
9)Create or open an existing Shortcut for the QMSCAPA.exe
10)At the end of the Windows Shortcut TARGET field type /FIRSTRUN to the right of the double-quote symbol.
11)FIRSTRUN option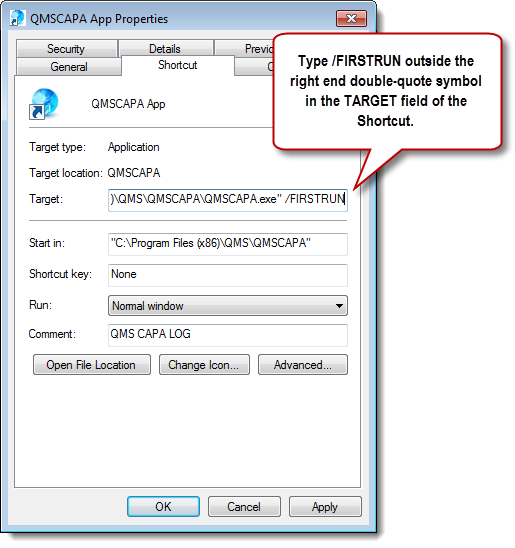 12)Apply the changes to the Properties of the short-cut. Restart QMSCAPA with the modified short-cut and the QMSCAPA Path Manager will open.

11) Select the Folder button to navigate and select your mapped drive. QMSCAPA should launch and connect with your shared data on your Server.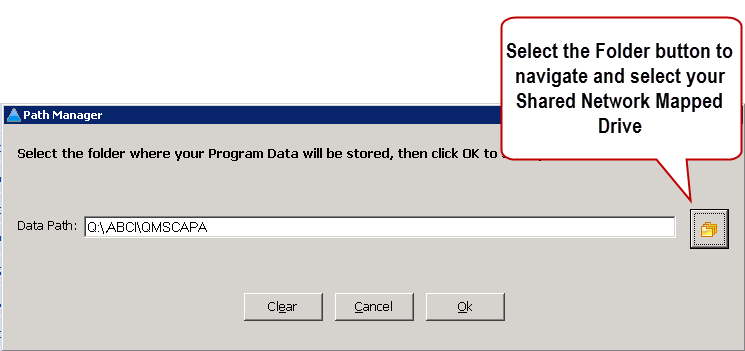 12) Once you have verified that the QMSCAPA Client is sharing data on your Server the you should remove the /FIRSTRUN from the Windows Shortcut TARGET field.