Security Menu, Browse Users Option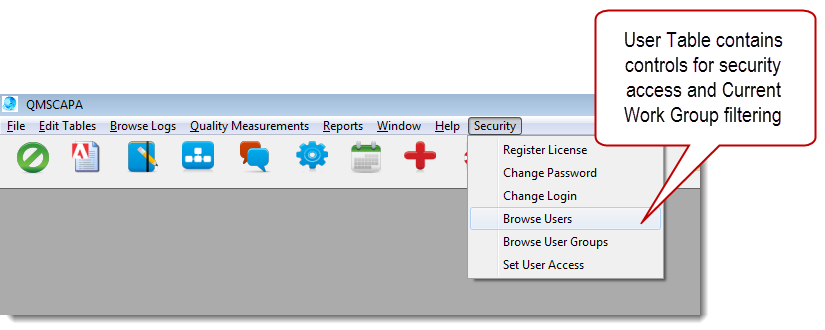 Browse User Table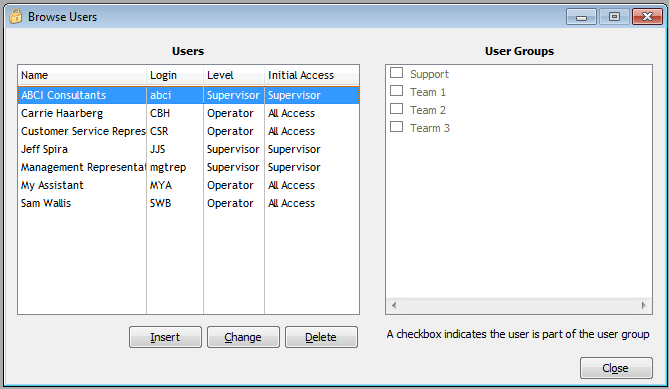 User Form
(A) The Work Group field
In the image shown above is a numeric code, which is used to filter or limit the data on specific browse tables. One or more users may be assigned a Work Group code. Therefore, when users login with the a specific Work Group Code specific browse tables are designed to limit access to the records that have a matching Current Work Group (CWG) code.
The Browse Tables that support the CWG filtering are:




For example, members of a Customer Service group may be assigned the Work Group code of '1234'. Therefore, any user in the Work Group '1234' that logs into QMSCAPA shall be limited to records in the Customer Complaints, CAPA, Task and KPI tables that have a Current Work Group (CWG) code of '1234'.
(B) Users Groups
User Groups are related to access and security settings. By setting the access rights of the group then any user that is assigned to the User Group will have the same security settings.
(C) Users Level
Three User Levels are possible. Supervisors by default are allowed all access. Operator access may be customized by the User Group or the individual.
Related Topic: Set User Access Rights