The Supplier/vendor Criteria Evaluation Table may be accessed through the Edit Tables main menu option. The Supplier /Vendor Evaluation methods includes setting a criteria for the evaluation and then scoring the supplier or vendor on a scale of 1 to 10 for 10 individual criteria.
1)Identify the Author and Approval Person for the Supplier /Vendor Evaluation Criteria.
2)Set the minimal score for an 'Approved' vendor; set the minimal score for a 'Conditional' vendor.
3)Optionally you may include or exclude 1 or more criteria items.
4)Use the Criteria field to describe the aspect to be evaluated.
5)The evaluation criteria 1 through 5 appears in the 1) By Evaluation Set Identification and the 2) Evaluation Criteria 6 through 10 Tab.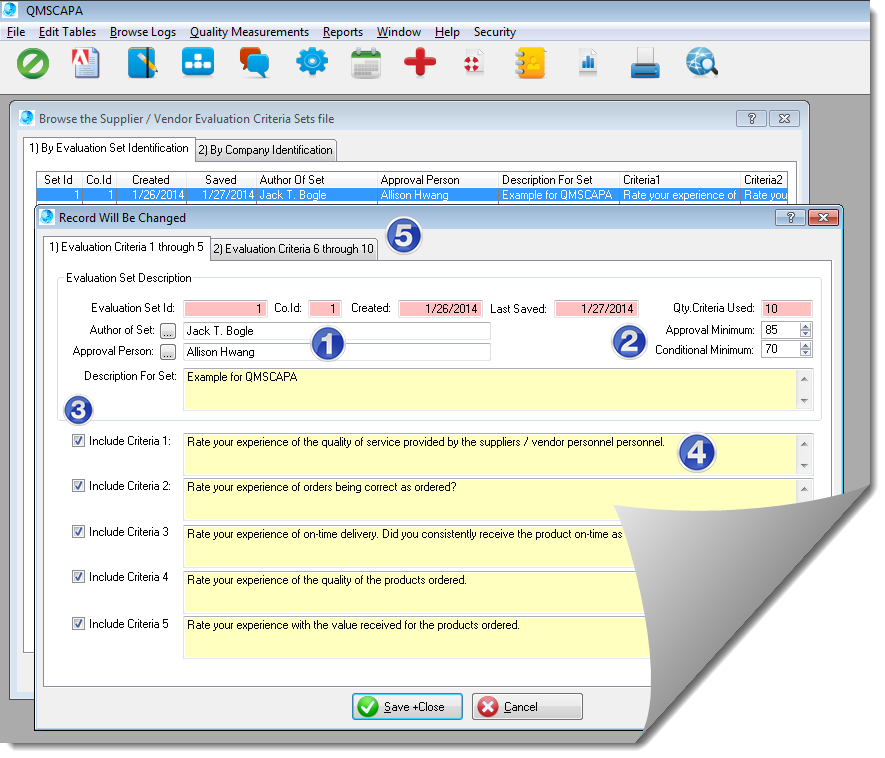 Related Topics:
•Supplier /Vendor Evaluation Table
•Supplier /Vendor Evaluation Form
•Printing Supplier/Vendor Evaluations
•Printing Supplier Report Cards